General Meetings
History and Technology of Rail Transport
February 2, 2017 @ 7 p.m
Keller Williams Realty
120 Bloomingdale Rd. **map**
1st Floor, White Plains, NY 10605
Plan now to attend!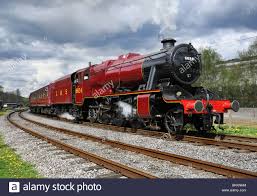 An evening of modern and steam trains will be presented by David Lerner and Deb Meisels.

Signals, switches, control towers, and modern computerized control and movement sensors, plus other features of the rail highway will be included.

David's wonderful selection of numerous delightful images will enhance the presentation.
All are welcome - members & non-members

For further information, contact Tom Osbeck at

Video clips and audience participation
Keller Williams Realty
120 Bloomingdale Rd. ****location map***
White Plains, NY
10605
A collection of short instructional videos on
technology, including "how to" clips.

After each clip, a panel of "experts" comment on the content and take questions from the audience.


For further information, contact Tom Osbeck at

Please Support Our Advertisers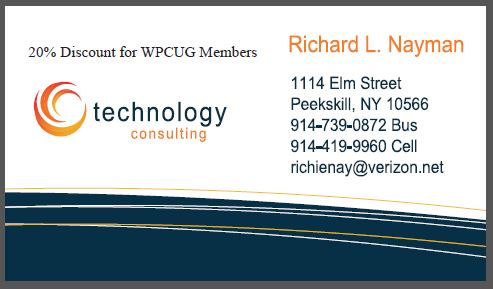 If you experience any problems with this website or have suggestions for improvement, please feel free to contact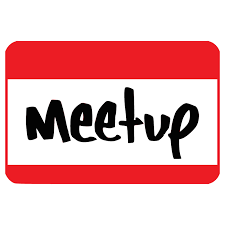 Please join our Meetup group so you can enjoy its many benfits and look for other interests as well. Click the Meetup image on the left to go to our Meetup page, then look for the red Join Us button to get started.




Now you can join our club or renew your membership conveniently and safely online via credit card or PayPal. Conventional mail / check payments are still available too. Click here to join.

Email for questions: veep@wpcug.org
Phone for questions: 914-720-1075




Westchester PC-Renew
A project of WPCUG

Westchester PC-Renew - We refurbish donated computers and provide them free to nonprofit groups in the community who can't afford to purchase new computers.



Click link above to learn more about our activities and how to get a refurbished computer.

Applyhere for a computer



W
PCUG - Newsletter

The February

2017

Westchester PC Users

Group Newsletter is now online. You can view it here. Or preview the table of contents. For past newsletters view here. Please note that while the preview is available to everybody, the complete newsletter is for club members only.




Presentations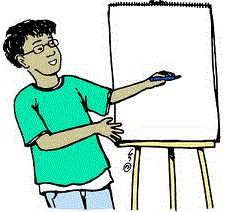 A selection of workshop & general meeting presentation documents

are now online. Click here to view.






Operation Clean Slate

In the last several years, the use of malicious software (malware) by online criminals has emerged as a global cybersecurity threat. Of the available intrusion devices, the "bot," or Web robot, is particularly pervasive, allowing an attacker to take control remotely of a compromised computer or computers. Invisible to victims, these networks, called "botnets," can include hundreds of thousands of machines around the world, controlled by a cyber criminal, or "bot herder." . Read more.....




Website Change Notification

| | |
| --- | --- |
| | Now you can get an email message whenever this page is updated. Learn when new programs are added, new workshops are started and when the newsletter is available online. Just enter your email address and click OK. |

Weekly Update Email

You can now sign up online for the WPCUG Weekly Update, view the archives of the Weekly Update or subscribe to the RSS feed of the Weekly Update. Receive the latest information on our meeting schedule and events as well as timely and important links to computer related tips and news. You'll find the Weekly Update link in the Members Section.
.