WPCUG INFOLINE
914-227-2495
24 / 7 Updates
aaa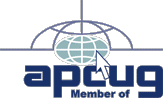 Members Area
---


The member area contains
Having trouble logging on? Click here
Member Requests

Discounts
Current and Archived Newsletters
Westchester Links
Board and Officers List
Helpline Phone Numbers




Attention WPGUG members.

If you are a current member of WPCUG, you have access to this "member only" area of the WPCUG website. To enter, follow these instructions.
Click on the image above or click here
Enter your Username and Password.

Your username is the 4 digit ID found on your membership card.
Your password is the first four letters (or all if fewer than four) of your last name; first character must be CAPITALIZED; for example, Smith is Smit.
Click OK and you will enter the WPCUG Members section.

If you have trouble logging on, email Member Admin.